I bet you never knew Emerson was a Giants fan, did you? Why else would he describe Bobby Thomson's 1951 pennant-winning home run as "
The Shot Heard Round the World
"? Don't believe it? Well, neither did Russ Hodges.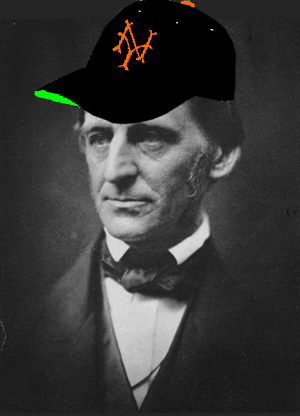 "The game of ball is glorious." Oh, wait, that was Whitman.
(Emerson:
Justin Cober
and 1951 Giants Ballcap:
Cooperstown Ball Cap Company
. Both images used without permission. I know nothing about Mr. Cober, but I highly recommend the Cooperstown Ball Cap Company's products. I own five of their caps and have given two away as gifts.)